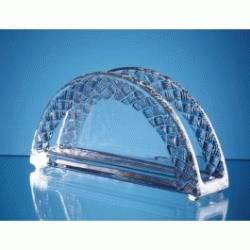 Lead Crystal Letter Holder
Lead Crystal Letter holder
Dimensions are: width 16.5 cm x height 8 cm
Delicate lattice pattern moulded around the top of the holder and a plain central area that can be engraved.
Cost of blank letter holder supplied in gift box is £35.00.
The price of the crystal block engraved would be from £50.00 depending on the amount of engraving.
Please contact us to arrange your engraving requirements.
Gift Ideas
Birthday
Wedding
Anniversary
Retirement
Graduation
Achievement Award
Corporate Gift
Something for yourself, your home or office.
Engraving Ideas
Names, Initials, Dates