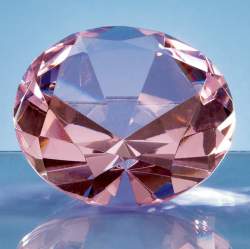 6cm Optical Crystal Pink Diamond Paperweight
The Optical Crystal pink diamond gives a brilliant effect when light reflects off the many facets that have been hand cut and polished. There is a small flat area on front which can be engraved with a name, initials for example
Height 4cm x depth 8cm
Cost of a blank paperweight supplied in satin lined presentation box is £10.00
Cost of paperweight engraved would be from £25.00, depending on the complexity of the engraving.
Please contact us to arrange your engraving requirements.