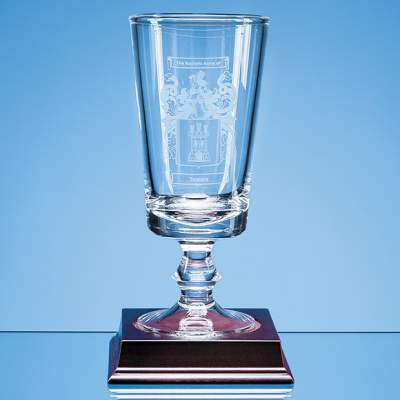 20cm Handmade Presentation Chalice
A classic chalice shaped award with long stem and deep bowl. This 20cm / 8" handmade glass chalice is ideal for awards presentations or to commemorate an event or occasion. There is space to engrave an inscription, crest, logo or coat of arms.
Height 20cm x depth 9cm. Weight 540g
Price of a blank goblet supplied in a gift box is £22.00.
Cost of a goblet engraved with a design of your choice would be from £42 depending the complexity of the engraving.
A wooden plinth to mount it on is also available at a cost of £8.00
Plus, why not consider presenting it in one of our beautiful, satin lined presentation boxes at a cost of £8.00
Please contact us to arrange your engraving requirements.