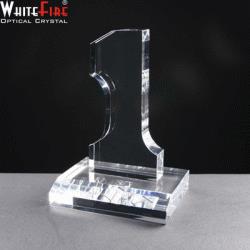 This Whitefire Optical Crystal Award with base is supplied in a deep blue velvet lined box.
Dimensions are: 4.5" wide x 3" deep x 6" high
Engraving area is limited
Room for a name /date ...please ask for details
Cost of blank block supplied in presentation box is £35.00.
The price of the crystal block engraved would be from £55.00 depending on the amount of engraving.
Please contact us to arrange your engraving requirements.