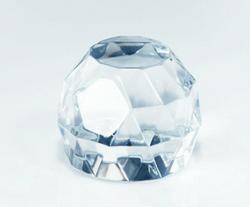 Facetted 5cm paperweight is made of 24% lead crystal. there is a small panel on one side suitable for engraving initials.
The bottom of the paperweight is plain as is the top. A small engraving on the bottom makes an effective viewing from above.
It comes with its own silk lined gift box.
The price of a blank facetted Paperweight is £15.00.
Cost of this paperweight engraved with a design of your choice would be from £25.00 depending the complexity of the engraving.
Gift Ideas
Birthday
Retirement
Graduation
Achievement Award
Corporate Gift
Something for yourself, your home or office.
Engraving Ideas
Initials, Logo, Flowers
Please contact us to arrange your engraving requirements.