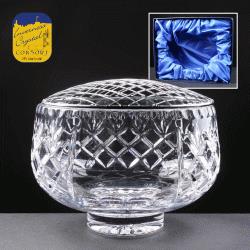 Lead Crystal Rose Bowl 7" - 'Consort'
This beautiful Earle Consort Rose Bowl is 24% lead crystal and 17.5cm / approx 7" in diameter ( at the widest part.)
Dimensions 7.09" width x 7.09" depth x 5.71" height
Engraving area 3" x 1.75"
The main body of the piece has a 'cut' pattern. There is a plain panel which is available for engraving. It makes a very stylish presentation piece.
The cost of a blank Rose Bowl is £60.00 supplied in the white card manufacturers box
Price of a posy vase engraved with a design of you choice is from £85.00 depending on the complexity of engraving
A satin lined presentation box is available at an additional cost of £10.00
Please contact us to arrange your engraving requirements.