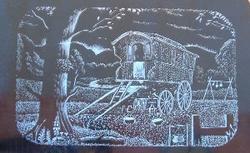 Glass Window Pane Engraving
Lawrence can engrave window glass and mirrors for your home or office. The glass needs to be untreated window glass or laminated glass, not toughened. Please contact us for details.
The 'Vardo'scene has been engraved on a piece of ordinary window glass 18inches x 12inches for a customer's caravan.
'Ewe with Lambs' on a pane of laminated window glass 3.5ft x 2.5 ft for an internal door, was commissioned by 'Greenfields' Bed and Breakfast in Goathland near Whitby ... next door to the 'Aidensfield Arms'!
Prices vary according to the complexity of the engraving and also the area to be covered. Discuss your ideas with us.
Please contact us to arrange your engraving requirements.